Wade Season is Here! 6-28-20
Flows: The water has dropped and wade season has begun. Release at Thirty Mile Bridge has sat under 200cfs for a few days now and the flows at Wagon Wheel Gap are hovering around 475cfs. These flows are manageable to wade, especially with rising water temperatures pushing fish to the deeper runs. Water temperatures have already neared 65 degrees in the afternoons at Wagon Wheel Gap.
With these higher temperatures fishing on the Rio should mostly happen in the morning. Fishing is more productive then and safer for the fish. We will closely monitor temperatures and post warnings when temperatures near 70 degrees. Remember fishing water over 68 degrees can easily be fatal to a stressed trout.
Hatches: We are still seeing some great green drake hatches especially on overcast and cooler days. PMD's have been sporadically coming off as well. Tan and Yellow Caddis are still present most evenings. A few Pteronarcys (Salmonfly) are around, mostly in the canyon between Wagon Wheel Gap and South Fork but most of the stoneflies we are seeing are smaller yellow, brown, and black variants.
Flies: We have really started to switch gears into nymphing in the last few days. Caddis nymphs as well as mayfly nymphs have been productive in a 14-16 size range. We are fishing 4x and 5x with the lower flows and clearer water.
 Parachute Adams 12-18 (drakes and other mayflies) Chubby Chernobyl Royal 12-14 (Stoneflies/Attractor) Pheasant Tail Flashback 14-16 (mayfly nymph) Tungsten Salvation 14-16 (caddis nymph)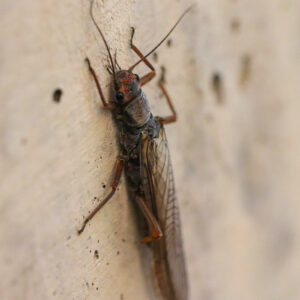 A large brown stonefly joined us following the Salmonfly hatch.